OUR SUSTAINABLE WINERY AND ECO CELLAR DOOR.
Love handcrafted sparklings and wines ? Come and visit the Adelaide Hill's sustainable cellar door - We have the largest range of small batch hand disgorged sparklings in the Hills. Our rustic Adelaide Hills Winery and Garden Weddings venue is set in a beautiful candlebark forest on a 20 acre sanctuary just 20 minutes from Adelaide.
DISCOVER THE WILD SIDE OF WINE…….
Experience the thrill of black cockatoos flying through the candlebark forest at dusk at a sunset session.
Wander through our sanctuary's spectacular display of wild flowers in spring.
Watch the mist roll through the valley of candlebarks in winter, whilst sipping on a muscat and warming yourself around a brazier.
Picnic under the towering candlebark gums with friends, or just chill out with a glass of wine and watch the birds fly by.
Just 20 minutes from Adelaide CBD, adjacent to Morialta Conservation Park and on the Heysen and Yurrebilla Trails, we offer a unique and intimate experience for wine lovers, bush walkers and bird watchers.
CELLAR DOOR OPENING HOURS
Our cellar door is open from September to the end of May  on Sundays from 12 to 4pm.
Bring along a picnic and relax under our candlebark forest with your family and friends.
We have many great music, wine and nature events happening!
Check out our events here.
You can also call ahead to order and pick up your wine 7 days a week!
FIZZOLOGY SESSIONS
Would you love to make your own bottle of sparkling?
Then don't miss the chance to learn the finer points of making sparkling wine. Hand disgorge, dosage and cork your own bottle of 94 point sparkling Rubida. All of Sinclair Gully's sparkling wines are hand disgorged in small batches on site.
Price $75 per person (min 2 people per session) includes your bottle of sparkling to take home.
Call us on 0409691995  to your session.
WINE DELIVERY TO YOUR DOOR!
We are pleased to offer a wine home delivery service. Your wine pack will be delivered to your door within 48 hours of order for people living within 20 kms of the CBD and Norton Summit!
Please call us on 0409691995 or  email sinclairsgully@gmail.com to place your order.
You will find an order form on this link.
Buy Wine Online Here
Free delivery on all dozens ordered.
Interstate and country wine orders will continue to be delivered through our Australia Post wine delivery service.
We really appreciate your ongoing support.
With our best wishes
Sue and Sean Delaney
Enjoy our handcrafted wines
With our four handcrafted sparkling wines now rated over 91 points by James Halliday, we have one of the Hills' largest sparkling ranges and are fast becoming regarded as the Hill's sparkling specialist. Our sparkling range is complimented with our cool climate sauvignon blanc, chardonnay and pinot noir, our Barossa shiraz and McLaren Vale Grenache.
Passionate about our wine, the Delaneys believe the secret to producing a great wine starts in the vineyard. We tend our vines by hand and have a strong focus on soil health, using a combination of biodynamic methods and native grasses in our vineyard to encourage beneficial insects, ensuring the vineyard remains in balance with nature. The wines produced display great fruit expression and cleanliness, reflecting the unique site specific characteristics.
OUR SINCLAIRS GULLY WINE CLUB
Welcome to our family's Adelaide Hills Vineyard and our handcrafted cool climate wines. We look forward to sharing our vineyard and winery with you.
We would love to keep in touch and offer you the opportunity to taste our Adelaide Hills wine prior to its release and invite you to our special member only events at our Adelaide Hills Cellar Door.
You will also be notified of our events, special offers, museum releases and you will receive our online newsletters.
ADELAIDE HILLS GARDEN WEDDINGS & RECEPTIONS
Plan your dream wedding in the Adelaide Hills
Have you been looking for that relaxed, intimate, picturesque place to have your wedding? Or maybe you've dreamed of getting married in a forest? Well this might just be the place you have been looking for.
We specialise in intimate and relaxed Adelaide Hills garden wedding elopements, ceremonies and receptions. Starting at $1550 for a 3 hour Adelaide Hills Winery garden ceremony for 20 to 120 guests.
Our secluded forest ceremony setting provides the perfect place for a rustic outdoor garden wedding under our towering candlebark forest. This beautiful multi award winning eco-certified winery is set on a private 20 acre nature sanctuary at Norton Summit in the Adelaide Hills, just 20 minutes from the Adelaide CBD in the foothills.
LETS ELOPE!
Don't let this corona virus spoil your dreams...
It is still possible to marry the love of your life!
We are so pleased to offer you 2 special elopement and small wedding packages.
Already have a celebrant and photographer?
You can just hire our forest venue for 90 minutes or more from $750.
Need a celebrant and photographer? No problems, we will put you in touch with our trusted partners.
We have a 2 hour intimate wedding package including forest venue, celebrant and photographer starting from $2150
Need witnesses? No problems, we can arrange this too!
We would love to help make your dreams come true!
Our hidden forest is such an intimate place to elope.
Call us and add at little happiness to your lives, you deserve it!
Click here for information on elopements
Sinclair's Gully Winery is the perfect place for a rustic forest wedding at our Adelaide Hills winery. What a beautiful place for a relaxed intimate wedding just 20 minutes from Adelaide. We specialise in flexible and affordable outdoor wedding ceremonies and receptions. Enquiries on 0409691995 or email sinclairsgully@gmail.com
Click here for information on weddings

Conservation in a Glass......
Our business leads the way in sustainable wine production and conservation, from our zero waste and water self sufficient cellar door, through to our biodynamic viticultural practices and landcare work in our sanctuary.
Make sure you include the Hills' only state tourism award winning sustainable eco winery and cellar door on your next visit to the Hills and enjoy our premium fine wines with a conscience!

SUMMER MUSIC EVENTS AT SINCLAIRS GULLY
Imagine a glorious summers afternoon sipping on a wine in the forest, while our homegrown talent entertain you!   So gather your friends, pack a picnic and head for a fabulous afternoon out in the hills. The performance will go ahead rain or shine.
Open for Post-Christmas Wine-down on Sunday 26 December and Tues 28 December 12 to 4pm.
Now that the sun is shining and the birds are singing, its time to dust off the picnic basket and treat yourself and your friends to a fabulous Sunday afternoon out in our beautiful candlebark forest.
What could be better than relaxing under the shade of the towering gum trees with a glass of wine in hand on a summer afternoon? So gather your friends and pack a picnic for a glorious afternoon out.
Pack a picnic and head to Sinclair's Gully on Australia Day for a Bush Picnic under towering candlebark gums.
Bring along your favourite Aussie song or poem to share during open mic (1pm to 3.30pm) or just come along to enjoy the local talent. Don't forget to wear your Akubra and RMs!
Book on line here https://www.trybooking.com/GRNP
Entry Free. Bookings essential. Open 12 to 4 pm. Open Mic 1 to 3.30pm
SPIRAL DANCE - SALTWATER TAFFY - HOT FOR JOE - HEDGEHOG. JAN 29TH 6pm to 9pm
An evening of pagan mystery, tunes from the Medieval and Renaissance eras and Morris Dancing, coupled with traditional and contemporary folk and Americana. This eclectic blend of sublime harmonies fuse folk-lore and legend, taking you back in time to a place of knights, queens, jesters and minstrels through to salty seas, hills and cotton fields, from civil wars to lost loves. Tickets $25 Music from 6.30-9pm. Open from 6pm for picnics. 100% Ticket price and 20% of Wine sales donated to our Sumatra programs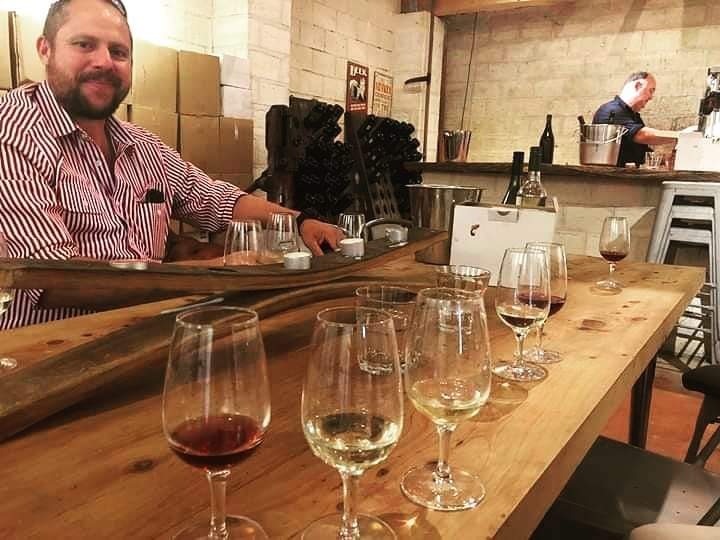 A sensational event in every sense! Sean, owner and vigneron will showcase the process of making premium quality hand crafted sparklings. Then its time for you to roll up your sleeves and get amongst it, hand disgorging, dosaging and corking your own bottle of 94 point sparkling,(James Halliday's 2012 Top 40 Best Australian Sparkling Wines). Every bottle in our range of sparkling wines is hand disgorged in small batches on site.  Get ready to tantalise your taste buds!
When January 16th 2022 at 11am
Tickets $75 includes your own bottle of sparkling to take home
We open 1 hour before each show's start time for picnics and drinks. 
BYO picnic (no food available for sale on site)
BYO wine glass or buy a glass for $5.
Strictly no BYO alcohol. Wine, sparkling and beer for sale by the glass or bottle.