OUR SUSTAINABLE WINERY AND ECO CELLAR DOOR.
Love handcrafted sparklings and wines ? Come and visit the Adelaide Hill's sustainable cellar door - We have the largest range of small batch hand disgorged sparklings in the Hills. Our rustic Adelaide Hills Winery and Garden Weddings venue is set in a beautiful candlebark forest on a 20 acre sanctuary just 20 minutes from Adelaide.
DISCOVER THE WILD SIDE OF WINE…….
Experience the thrill of black cockatoos flying through the candlebark forest at dusk at a sunset session.
Wander through our sanctuary's spectacular display of wild flowers in spring.
Watch the mist roll through the valley of candlebarks in winter, whilst sipping on a muscat and warming yourself around a brazier.
Picnic under the towering candlebark gums with friends, or just chill out with a glass of wine and watch the birds fly by.
Just 20 minutes from Adelaide CBD, adjacent to Morialta Conservation Park and on the Heysen and Yurrebilla Trails, we offer a unique and intimate experience for wine lovers, bush walkers and bird watchers.
CELLAR DOOR OPENING HOURS
EASTER OPENING TIMES
GOOD FRIDAY 2 PM MUSIC CONCERT
EASTER MONDAY 2PM FOR ACOUSTIC MUSIC AFTERNOON
CLOSED EASTER SATURDAY AND SUNDAY
Our cellar door is open from September to the end of May  on Sundays from 12 to 4pm.
Bring along a picnic and relax under our candlebark forest with your family and friends.
We have many great music, wine and nature events happening!
Check out our events here.
You can also call ahead to order and pick up your wine 7 days a week!
FIZZOLOGY SESSIONS
Would you love to make your own bottle of sparkling?
This is an effervescent experience that will awaken your senses! Sean, owner and vigneron will showcase the process of making premium quality hand crafted sparklings. Then its time for you to roll up your sleeves and get amongst it, hand disgorging, dosaging and corking your own bottle of 94 point sparkling,(James Halliday's 2012 Top 40 Best Australian Sparkling Wines). Every bottle in our range of sparkling wines is hand disgorged in small batches on site.  Get ready to tantalise your taste buds!
Email sinclairsgully@gmail.com to book your sparkling session (min group size 4)
Tickets $75 includes your own bottle of sparkling to take home
Or call us on 0409691995 to make a private group booking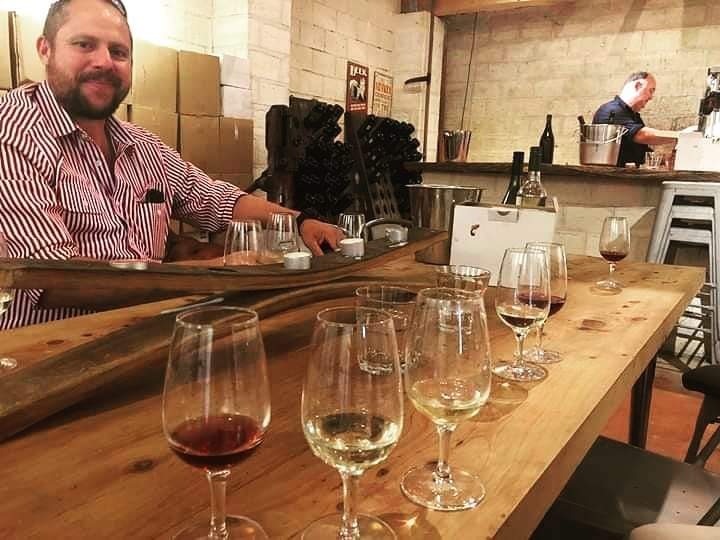 WINE DELIVERY TO YOUR DOOR!
We are pleased to offer a wine home delivery service. Your wine pack will be delivered to your door within 48 hours of order for people living within 20 kms of the CBD and Norton Summit!
Please call us on 0409691995 or  email sinclairsgully@gmail.com to place your order.
You will find an order form on this link.
Buy Wine Online Here
Free delivery on all dozens ordered.
Interstate and country wine orders will continue to be delivered through our Australia Post wine delivery service.
We really appreciate your ongoing support.
With our best wishes
Sue and Sean Delaney
Enjoy our handcrafted wines
With our four handcrafted sparkling wines now rated over 91 points by James Halliday, we have one of the Hills' largest sparkling ranges and are fast becoming regarded as the Hill's sparkling specialist. Our sparkling range is complimented with our cool climate sauvignon blanc, chardonnay and pinot noir, our Barossa shiraz and McLaren Vale Grenache.
Passionate about our wine, the Delaneys believe the secret to producing a great wine starts in the vineyard. We tend our vines by hand and have a strong focus on soil health, using a combination of biodynamic methods and native grasses in our vineyard to encourage beneficial insects, ensuring the vineyard remains in balance with nature. The wines produced display great fruit expression and cleanliness, reflecting the unique site specific characteristics.
OUR SINCLAIRS GULLY WINE CLUB
Welcome to our family's Adelaide Hills Vineyard and our handcrafted cool climate wines. We look forward to sharing our vineyard and winery with you.
We would love to keep in touch and offer you the opportunity to taste our Adelaide Hills wine prior to its release and invite you to our special member only events at our Adelaide Hills Cellar Door.
You will also be notified of our events, special offers, museum releases and you will receive our online newsletters.
ADELAIDE HILLS FOREST WEDDINGS & RECEPTIONS
Plan your dream wedding in the Adelaide Hills
Have you been looking for that relaxed, intimate, picturesque place to have your wedding? Or maybe you've dreamed of getting married in a forest? Well this might just be the place you have been looking for.
We specialise in intimate and relaxed Adelaide Hills garden wedding elopements, ceremonies and receptions. Starting at $1000 for a 2 hour Adelaide Hills Winery forest ceremony.
Our secluded forest ceremony setting provides the perfect place for a rustic outdoor garden wedding under our towering candlebark forest. This beautiful multi award winning eco-certified winery is set on a private 20 acre nature sanctuary at Norton Summit in the Adelaide Hills, just 20 minutes from the Adelaide CBD in the foothills.
LETS ELOPE!
Don't let this corona virus spoil your dreams...
It is still possible to marry the love of your life!
We are so pleased to offer you special elopement and small wedding packages.
You can hire our forest venue for 2 hours or more from $1000.
Need a celebrant and photographer? No problems, we will put you in touch with our trusted partners.
Need witnesses? No problems, we can arrange this too!
We would love to help make your dreams come true!
Our hidden forest is such an intimate place to elope.
Call us and add at little happiness to your lives, you deserve it!
Click here for information on elopements
Sinclair's Gully Winery is the perfect place for a rustic forest wedding at our Adelaide Hills winery. What a beautiful place for a relaxed intimate wedding just 20 minutes from Adelaide. We specialise in flexible and affordable outdoor wedding ceremonies and receptions. Enquiries on 0409691995 or email sinclairsgully@gmail.com
Click here for information on weddings

Conservation in a Glass......
Our business leads the way in sustainable wine production and conservation, from our zero waste and water self sufficient cellar door, through to our biodynamic viticultural practices and landcare work in our sanctuary.
Make sure you include the Hills' only state tourism award winning sustainable eco winery and cellar door on your next visit to the Hills and enjoy our premium fine wines with a conscience!

WINTER EVENTS AT SINCLAIRS GULLY
Imagine a misty winters afternoon in the forest, sipping on a wine around the fire while our homegrown talent entertain you!  And don't worry about the weather, we have you covered! A marquee will be provided if it looks like rain. So gather your friends, pack a picnic and head for a fabulous afternoon out in the hills. Our performances will go ahead rain or shine.
We open 30 minutes before each show's start time for picnics and drinks.
BYO picnic and wine glasses (No food available for sale on site. Wine glasses $5)
Strictly no BYO alcohol. Wine, sparkling and beer for sale by the glass or bottle.
Imagine a misty winter's afternoon, sipping on a wine, warming yourself around a brazier while our homegrown talent soothes your soul. And don't worry about the weather, a marquee will be provided if it looks like rain.
So gather your friends, pack a picnic and get ready for a fabulous afternoon in the Hills
Sunday 3 July 1pm. Siobhan Owen's Celtic Story. Heart wrenching traditional Celtic ballads entwined with original contemporary Celtic songs. You will be captivated by Siobhan's ethereal voice and harp float through our enchanting candlebark forest. Just breathtaking.
Tickets $17.50 Book Your Tickets Here
Sunday 10 July 1pm. West Coast Gem - Kenneth Wilson Kenneth Wilson and his guitar take you on a musical journey, as he sings of Country, trials in life and relationships. Kenneth, a Wirangu Kokatha Man from the West Coast, Eyre Peninsula in South Australia will sooth your soul throughout the afternoon as he covers many of your favourites from Brown Eyed Girl to Stand By Me, as well as some of his own originals.
Saturday 16 July 7pm. First Nations Voices. Join First Nation musicians Glenn Skuthorpe and Russell Smith as they come together for an evening under the stars in picturesque surroundings. A musical experience that transcends time and showcases a chronicle of life and culture. Performing original songs and sharing stories of life's journeys.
Sunday 17th July 1pm. Scott Rathman Jnr + TimOnBass. Imagine a misty winter's afternoon, sipping on a wine, warming yourself around a brazier while Scott Rathman Jnr and TimOnBass soothe your soul throughout the afternoon, with an eclectic mix of songs of life, people and relationships
Be captivated as Emma Knights takes you and the Urrbrae House grand piano on a musical journey. Emma will play a collection of her favourite winter pieces from classical to modern day, with a sprinkling of her own originals throughout the performance.
All proceeds to CareSumatra Children's Education Programs
Historic Urrbrae House was built in 1891. and is one of the most significant private houses in South Australia. Surrounded by 27 hectares of magnificent gardens and grounds, bequeathed by Peter Waite to the University in 1922 to establish the Waite Agricultural Research Institute and Arboretum.
Tickets $25 Book Your Tickets Here
Open from 10.30pm. Performance starts at 11am
Free self guided Tour of the Upper Floor of this historic homestead at 12pm
Book Lunch at the Beltana Cafe at 1pm
Urrbrae House
12 Walter Young Ave
Urrbrae SA 5064
All tickets booked online will be allocated a table and chairs.
BYO picnic and glasses (No food available at the venue)
Strictly no BYO alcohol. Wine, sparkling and beer for sale by the glass or bottle.